Nutritional Evaluation Service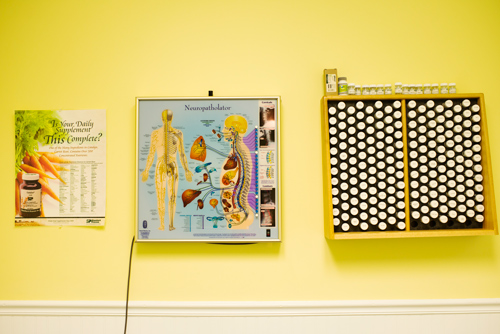 Nutritional deficiencies and chronic degenerative changes have become common in our modern world.  Due to increased stress, diets that no longer resemble what our genetic coding was designed to utilize, toxic exposures, and food grown in nutrient depleted soil, nutritional therapy has developed as a way to support human health in today's landscape.
Almost all of our physical conditions have a nutritional component and will respond and perhaps resolve with specific nutritional support.
The purpose of our Nutritional Evaluation Service is to identify the individual area(s) of physiological weakness and find the correct nutritional device to support that weakness.  By supplying the appropriate raw materials our bodies will be better able to repair and regenerate.
Supporting normal physiology with natural whole food based supplements and gradual diet modification allows the opportunity for the normal miracle of healing.
Our Nutritional Evaluation Service is appropriate for anyone who wants to explore the possibility of improving their health, vigor and vitality. Over the years we have had the opportunity to support individuals with conditions like…
ADD/ADHD, Adrenal Stress Disorder, Healthy Aging, Allergies, Anemia, Anxiety, Autoimmune Conditions,Arrhythmias, Arthritis,Blood Pressure,  Blood Sugar Challenges, Brain Fog/Mental Clarity, Cancer Support, Cholesterol, Cold Sores, Crohn's Disease, Chronic Diarrhea, Constipation, Chronic Fungal/Yeast Infections, Cramps, Detoxification/Purification, Diabetes, Eczema, Enteric Infestations/Parasitic, Endocrine/Hormonal Imbalances, Erectile Dysfunction, Fatigue, Fertility, Fever, Fibromyalgia, Food Intolerance, Gall Bladder Dysfunction, GERD/Indigestion/Heartburn/Bloating, Headache, Hemorrhoids, Healthy Conception, Hot Flashes, Infection/Recurring, Pregnancy and Lactation, IBS/Irritable Bowel Syndrome, Immune System Support, Infant Failure to Thrive, Inflammation, Insomnia, Interstitial Cystitis,Itching,  Leaky Gut Syndrome, Low Libido, Lyme, Macular Degeneration, Menopausal Symptoms, Migraine, Morning Sickness, Nausea, Neuropathy, Painful/Irregular Menses, PMS, Pneumonia, PostSurgical and Trauma Recovery/Healing, Prostate Conditions,Rashes,  Restless Leg Syndrome, Rheumatoid Arthritis, Shingles (Herpes Zoster), Sinusitis, Quality Sleep, Thyroid, Warts, Healthy Weight Loss, Worms, Yeast Infections
Our nutritional evaluation begins with a thorough history to make sure we understand exactly what your concerns are. Dr. Pence will evaluate your typical weekly diet, health history, and any lab testing results you already have. You may be asked to complete an, prior to your first visit, as well as a one week dietary intake. All of this information will be used to perform an appropriate  nutrition exam.
As part of his exam, Dr. Pence may look at your finger nails, tongue, and other outward physical signs. Blood pressure, pulse, height and weight and standard physical are noted.
Dr. Pence will also utilize a manual muscle testing system to analyze superficial autonomic reflexes that may reveal underlying organ and glandular areas of weakness. Any weakness found will be challenged with specific nutrients to identify nutrient needs.
All the information learned will be assessed with a heavy dose of common sense to recommend a plan to improve function and support health.